Zip Solar is a trusted name for solar installation in Sydney.
Sydney is an excellent location for solar power. Around 10-20%(data source?) of homes have a solar installation in Sydney on their roofs. So, there is absolutely no reason why you shouldn't go solar in 2022.
Below is a table that shows how much solar energy different solar system sizes can produce in Sydney on an average day. It is important to note that kilowatt-hours (kWh) are units that will appear on your electricity bill. This is the unit that your electricity retailer uses for calculating your monthly or quarterly electricity charges.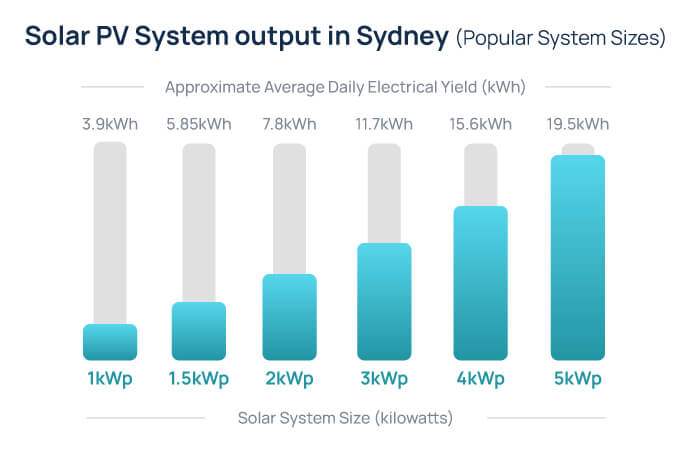 (Source) : Clean Energy Council
Zip Solar is a national company committed to providing quality solar installation in Sydney and excellent customer service based on transparency and honesty. We work with our clients to find the best solution for them. We stand behind the quality of all our work with industry standard Warranties.
Should I opt for a solar installation in Sydney?
Having a solar panel installation in Sydney is a fantastic investment for every house with an adequate-sized, unshaded roof and a moderate electricity usage in the time of daylight as solar power can help you save the cost of electricity in two distinct ways.
1. Solar can help you cut down on how much energy you have to buy from your electricity retailer or grid.
Often known as solar self-consumption, this is a term that is crucial to getting the most out of your solar panels - you must take every step to maximize your self-consumption, which is an act of operating all of your household appliances (pool pump, dishwasher, washing machine, dish washer, dryer, etc.) whenever the sun shines.
2. You can receive credits on your electric bill for the surplus energy.
It is commonly called a solar feed-in tariff. The solar power generated, which isn't immediately used in the devices within your home, will be returned to the grid earning you the feed-in tariff. Some years ago, there were feed-in tariffs that the government subsidized. These days, they are less. However, they are still sufficient to make solar installation in Sydney a viable investment.
The value of solar energy is determined by a mix of how much you consume and the amount you export. So, for example, if you own a 3kW system which produces 11.7kWh/day and you get to consume 50% of the energy, your savings would be less if you consumed 80% or in the ideal case 100%. In simple terms, the more energy your system generates but which you do not use, the more energy you can sell to the retailer for a profit! Therefore, it becomes essential to ensure that the solar system you select is sized to suit your house and the amount of electricity you consume.
Best solar installer in Sydney for Residential
At Zip Solar, we provide several residential solar solutions to Sydney residents. Our solar Sydney solutions are built with industry-leading Tier-1 solar panels and the latest inverters to ensure maximum efficacy and energy conversion.
This is an essential part of the Zip Solar distinction, as other solar retailers located in Sydney do not offer a similar level of protection for safety and quality assurance. solar retailers in Sydney, we offer our customers warranties on the product's and quality. Alongside installation and sales, we provide maintenance and cleaning for solar panels to ensure that your system operates to its maximum capacity every year.
Commercial Solar Panel Installation in Sydney
Access to reliable power is essential for modern businesses, regardless of owning a small warehouse or an office building. We offer a variety of products and support services to commercial customers in addition to our residential solar panels that are flexible enough to suit any requirement.
Commercial solar systems are built using the same technology as residential ones but increasing the solar system size/capacity. As a result, our commercial solar power systems offer advanced solutions to help you save money on your electricity bills and reduce your carbon footprint.
If you're looking for solar installation in Sydney and products that you can trust from a reputable brand, contact us today!

Solar in Sydney
We have a strong installation network
right across Sydney.

Trusted Solar Energy Provider
We are a trusted and reliable
solar energy provider.

Local Support
Let our team help you with pricing and
financial incentives.
Solar in Sydney just makes Sense!
Sydney electricity consumers have experienced substantial increases in power prices over the last few years and with more on the horizon. Luckily Sydney receives an abundance of sun which makes solar especially attractive. Find out the price of Solar Panels in Sydney, what financial incentives you're eligible for and how to find the best deal.